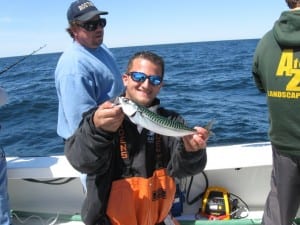 The Karen Lynn is off and running as we had our first charter on Friday. After a long winter and much boat preparation it sure feels nice to get back out on the water. Along with routine boat maintenance on the Karen Lynn we re painted and added new non skid to the deck as well as new L.E.D deck lights and sweet new Bose speakers for the cock pit. Very excited to get the 2010 season going!
      On Friday we headed out to the bank for some ground fishing with our group from Connecticut. As the morning started off slow with a slow pick on cod we decided to run further down the bank coming across groups of feeding hump backs. In with the whales were schools of large Pollack feeding on sand eels and mackerel as the mackerel were jumping on the cod teasers as we came across small bunches of mackerel through out the day. The Pollack a.k.a Boston bluefish were very aggressive to say the least hitting jigs and teasers 20′ under the boat. As far as ground fishing goes switching up to lighter gear and butterfly jigs can be quite a blast with these large drag pulling Pollack great table fare as well.
      We ended up the day finding a few more nice bunches of cod with a few haddock. Great day overall as the bank is showing great signs of life catching cod, haddock, Pollack, and mackerel all while being surrounded by bubble feeding humpbacks. Truly an amazing event in nature as sometimes you just have to sit back and enjoy it.
      Ran into much life inshore on the steam home as there were feeding minkie whales only a few miles off of the breakwater. Marked lot's of bait up off the bottom assuming small herring, along with coming across small batches of mackerel which should become more plentiful very soon. Action will continue to heat up as the predators are not very far behind!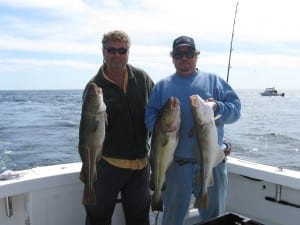 Feel free to give me a call anytime regarding your custom charter aboard the Karen Lynn. Thanks
Good Luck to all!
Capt Collin