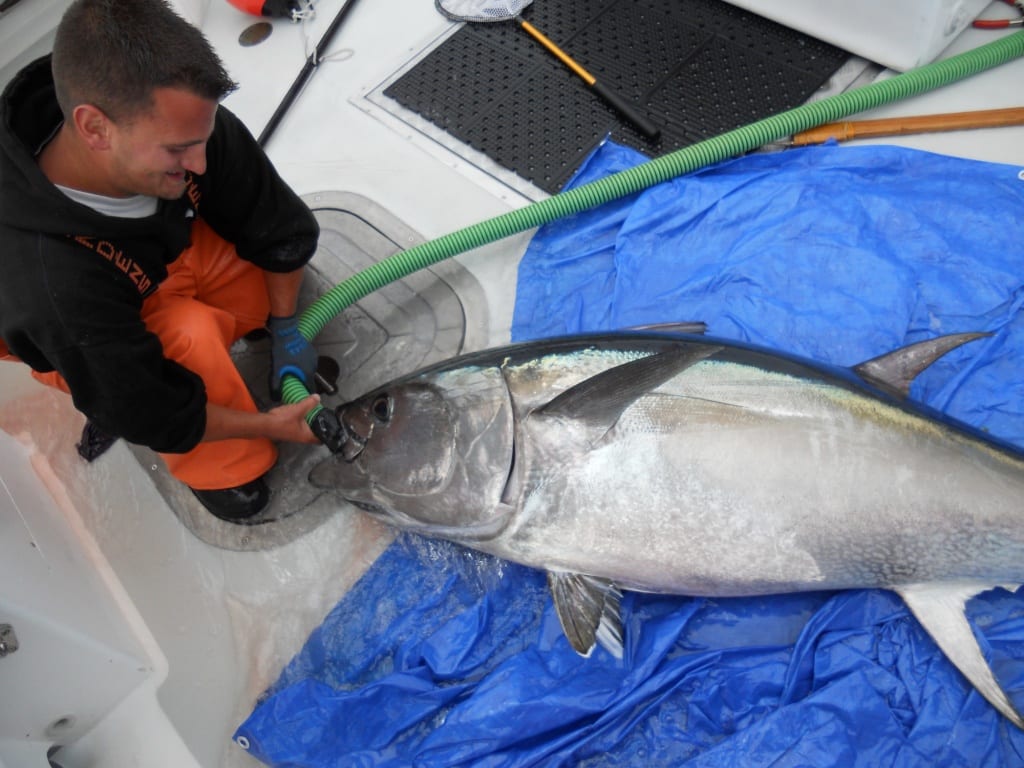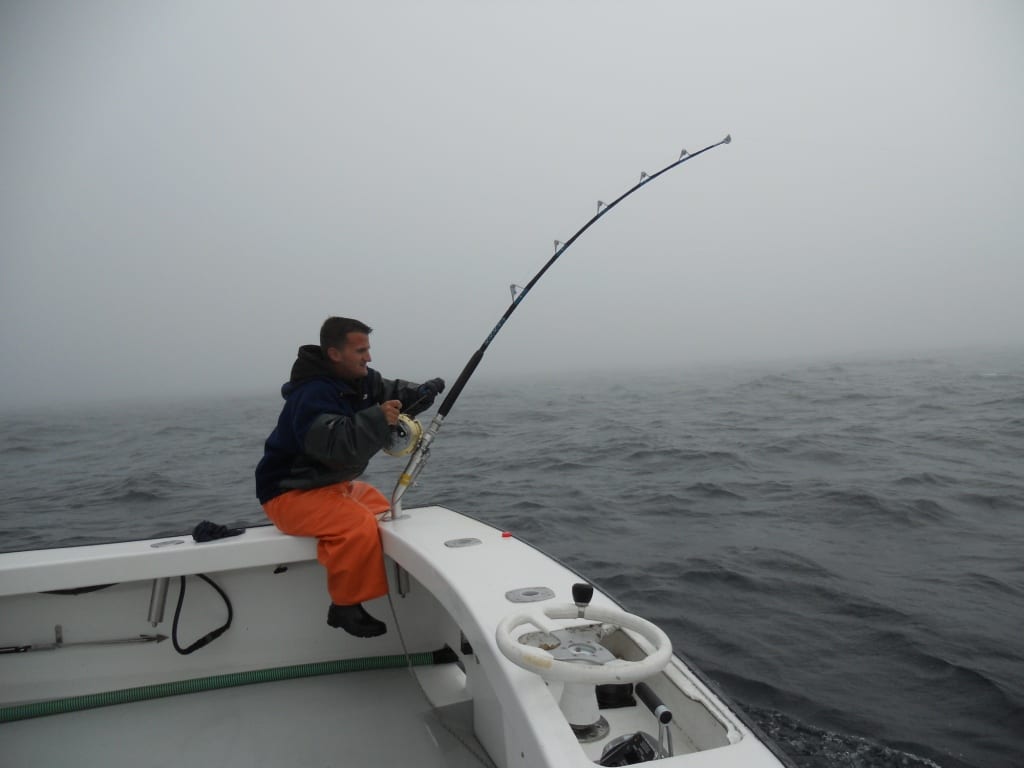 Another great day on the water as we were back at again yesterday. Once again we would be heading out in the pea soup fog, could not even see the bridge from the slip felt like we were trapped in a bubble the last couple of days. It finally lifted in the afternoon and the sun popped no doubt a mood changer for sure. Marking a decent amount of fish bouncing off the bottom feeding in the tightly packed groups of sand eels, which have not moved off the bottom much at all. Which would explain the lack of whales and birds on the bank once the temp comes up a little they should become more active.
We were quickly on a fish a half hour into fishing which is always a nice thing. Very hard fighting fish once again taking some good initial runs which create that beautiful noise we all live to hear. The fish we landed and released were in the 70 inch to 71 inch class a little smaller than the previous day. Very tough to gauge an accurate measurement while the tuna is in the water and while we are out commercial fishing we want to make sure we get it right.
We practiced a great catch and release method which has been successfully done for years a very exciting method for sure. Once we get the fish boat side which is averaging around a 10 to 20 min fight the tuna still being very green. We lay down a nice smooth tarp to keep the non skid from removing any slime or scales at all, quickly open the tuna door and slide them in. Having a small wet cloth to quickly drop over their eyes and having our large wash down pump fired up. We then drop the cloth which really keeps them calm and quickly insert the wash down hose into the mouth, on the Karen Lynn we have a large wash down hose which runs off the engine which pushes a great deal of water over their gills very important as tuna are ram breathers and must have water running over their gills. We take a very quick and accurate measurement of the fish, not over 73 inches we quickly put the boat in gear and gently push them out the door having each one kick off very healthy a nice feeling, a very neat and exciting practice for sure we seem get better each time we do it.
Fishing continues to be good hopes of more fish moving onto the bank and settling in. The bass have arrived on the bank lots of them as you will see large packs of them streaking on the fish finder. Ocean life continues to improve as both predator and prey will be in full swing very soon. Good luck to all !
Capt Collin